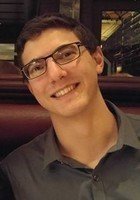 Nick
Certified Tutor
I graduated from American University in December of 2015 and earned my Bachelor of Arts in Justice, Law, and Society, while also completing a Minor in Applied Physics. I have a deep passion for both criminal justice and physics, and have written and edited a variety of papers in both subjects. In addition to law and physics, I am also fairly skilled with languages, having taken Spanish for six years, and Italian, Ancient Greek, and Latin for a year apiece.

In addition to focusing on law, physics, and languages, I have also had a lot of success with helping students with learning disabilities, such as ADD, ADHD, and dyslexia. I myself was diagnosed with ADHD when I was six, and I have developed a variety of techniques designed to aid students who struggle with these learning difficulties.
Education & Certification
Undergraduate Degree: American University - Bachelors, Justice, Law, and Society
Hobbies
watching movies, reading, playing video games, cooking, reading comic books, and exploring the city
Tutoring Subjects
Civil Procedure
College English
College Physics
Constitutional Law
Conversational Spanish
Criminal Law
High School English
High School Physics
Law
Legal Research
Legal Writing
Property Law
Spanish 1
Tort Law
What is your teaching philosophy?
I prefer to guide students to the right answer rather than outwardly giving it to them. This is done by guiding their thinking, letting them present an idea, and then discussing why that idea is correct or needs to be improved upon.
What might you do in a typical first session with a student?
In a student's first session, I feel it is important to get to know them and their interests briefly before starting on school work so that we can develop an environment that is more conducive to learning.
How can you help a student become an independent learner?
A student can become an independent learner by first guiding them through generalized processes that are dependent on the subject being taught. Once a framework of how to solve a problem has been established, students can more easily recognize similar elements to problems and arrive at an effective solution using the tools they have acquired in the tutoring sessions.
If a student has difficulty learning a skill or concept, what would you do?
Work through the problem step-by-step and come up with analogies to aid in the comprehension of various concepts and ideas.