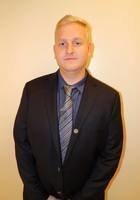 Aaron
Certified Tutor


I am currently attending Austin Community College and planning on transferring to a 4 year university to achieve a bachelors in chemical engineering after spring semester. Math was once a subject I dreaded on taking having this pre-conceptual thought since high school that I was bad at it, I put it off as long as possible in college. After taking some really hard classes like organic chemistry I had learned that if you go into a class thinking your bad at, that attitude will ultimately reflect on your grade. So there I was going into intermediate algebra with a changed mindset and the grade highly reflected that. Ever since that I have enjoyed math classes. Math is a difficult subject even for me moving up the ladder. Understanding concepts takes time, a lot of time and it can be frustrating. I know the struggle. I have been helping classmates from the beginning of my math career up to now. Given the opportunity to be a supplemental instructor for a college algebra class (the highest dropped class at ACC) it has really made me appreciate spreading the knowledge. Helping students go from D's and C's to A's and B's. The feeling of being able to help someone with a topic I once had difficulty with is indescribable. That is what ultimately led me to reach out to other tutoring positions such as varsity tutors. To spread the knowledge and to relay a positive message to fellow students or anyone looking to understand a difficult subject.
Subjects I tutor,
Algebra 1
Algebra 2
Trigonometry
Calculus 1
Hobbies
Hiking, backpacking, camping, anything outdoors
Tutoring Subjects
10th Grade
11th Grade Math
1st Grade Math
6th Grade Math
Elementary School Math
What is your teaching philosophy?
Aim your goals high, and the outcome will be high.
What might you do in a typical first session with a student?
I would do a run through of basic concepts to see where they are at in the subject so I could be a more helpful tutor.
How can you help a student become an independent learner?
Set them up with the general knowledge to tackle any problem.
How would you help a student stay motivated?
Words of encouragement and positive feedback. Everyone needs a boost when the material gets difficult.
If a student has difficulty learning a skill or concept, what would you do?
Start from the ground up and approach the concept different ways until it clicks.
How do you help students who are struggling with reading comprehension?
Patience is key. In math word problems can be difficult to comprehend what the question is asking so be breaking down the question in steps I have found to be the biggest help.
What strategies have you found to be most successful when you start to work with a student?
Getting to know the student first off. Never presenting yourself as an almighty math whiz, and definitely being understanding with the subject they are having difficulty with. I let the students know I was in their shoes at one point in time seeking help just like them.
How would you help a student get excited/engaged with a subject that they are struggling in?
Make the learning fun. I have learned different methods of tutoring from being an SI that break the hardships of math and make it interesting. Once the student starts to understand material it isn't hard for them to engage it confidently.
What techniques would you use to be sure that a student understands the material?
The best way is to make sure a student understands something is have them go back and explain each step. If you can explain the work you did it puts it in your memory. Then give them a similar problem and have them solve it while explaining each step.
How do you build a student's confidence in a subject?
Make the subject enjoyable. Never approach a topic with a negative attitude.
How do you evaluate a student's needs?
The best way for me is to ask basic concepts. If they can't answer these then that is what you start with.