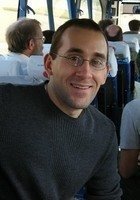 John Paul
Certified Tutor
I majored in Biology and minored in Chemistry and Mathematics at Northeastern University. I also have a MS degree in Atmospheric and Oceanic Science from the University of Wisconsin. Everyone has a different learning style and pace. I like to use my patience and well tuned perception of others to work with individuals on the same playing field rather then expect them to understand what I know via a lecture. I have an extensive background in the sciences and have worked with individuals as a swim coach, ski instructor, lifeguard captain, and mental health counselor among other experiences. My passions include the outdoors, athletics, science topics, working as part of a team, and being an ocean rescue lifeguard during the summer. I became interested in tutoring after receiving feedback from younger family members who told me I was much more effective than the paid tutors they were using. I am currently preparing to apply to medical school and hope to use this position to make a little extra money in addition to my other job.
Test Scores
SAT Math: 800
GRE Quantitative: 170
Hobbies
Masters Swimming, Ski Instructor, Hiking, Surfing
Tutoring Subjects
12th Grade Math
1st Grade Math
College Chemistry
Elementary School Math
High School Chemistry
Honors Chemistry
Physical Science
What is your teaching philosophy?
I use my patience and interpersonal skills to work with people on their playing field. This allows individuals to feel more comfortable asking questions and understand challenging concepts in a way that makes most sense to them, not me.
What might you do in a typical first session with a student?
Everyone is different. I will start off a session naturally and dependent upon on the person I am interacting with. The details that follow will depend on the student's needs and readiness to tackle them.
How can you help a student become an independent learner?
I find the best way to make a student an independent learner is to allow them to do the work. I typically will ask guiding questions and fill in any gaps in the student's knowledge base.
How would you help a student stay motivated?
Validation of how someone is feeling is an effective way of letting them know you understand them and are there to help. If a student can't solve a problem, the best way to motivate them is to acknowledge they can't while opening the door to a way forward.
If a student has difficulty learning a skill or concept, what would you do?
Acknowledge that it is hard for them and let them know I here to help them understand it better.
How do you help students who are struggling with reading comprehension?
I am primarily a tutor for math and science, but when such an issue arises I find it helpful to encourage students to use other sources of information on the topic before returning to an assigned reading that was difficult to understand.
What strategies have you found to be most successful when you start to work with a student?
Effective communication between the student and myself. Being relatable and approachable.
How would you help a student get excited/engaged with a subject that they are struggling in?
Be light hearted, validate, and let them know I am truly interested and excited to help them understand the subject better.
What techniques would you use to be sure that a student understands the material?
Have them complete practice problems and show me the steps they took to get to an answer.
How do you build a student's confidence in a subject?
Let them do practice problems as much on their own as possible.
How do you evaluate a student's needs?
Through communication and evaluation of how they perform in the material we are covering. I am very adept at reading others and formulating an effective way to work through problems with them.
How do you adapt your tutoring to the student's needs?
I have extensive experience with people of all ages and backgrounds, including those with special needs. It's about talking to someone on their 'plane' while remaining genuine and not condescending.
What types of materials do you typically use during a tutoring session?
Calculator, paper, pen, subject materials, and internet when applicable.