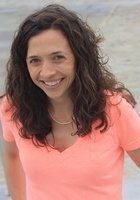 Lynn
Certified Tutor
I graded with a B.A. in English from Biola University and was a member of the Torrey Honors Institute. As an undergrad I studied an overview of the Great Books literature of the west (from the ancient Greek philosophers to pre-modern writers). Some of my favorite authors are British.

I've had experience teaching in public and private school settings, elementary through high school. I'm currently homeschooling my two kids and have daily experience in motivating and encouraging students to learn. With questions, patience and a sense of humor, I'm able to dispel confusion and help them understand the material. I will do the same for you and your student!


Education & Certification
Undergraduate Degree: Biola University - Bachelors, English
Hobbies
Dancing (Swing and Salsa), reading, being outdoors in the sunshine, event planning
How would you help a student stay motivated?
I would find out what makes a student "tick." What are his interests? What are his hopes? Very likely, the qualities he needs to achieve those are found in persevering through his studies. Where applicable, I would also tie in the material to his interests.
What techniques would you use to be sure that a student understands the material?
I was taught through the Socratic style of learning, and am adept at asking questions! Part of understanding the material is being able to articulate the answers, so I would ask lots of questions to see if the student is able to do that.