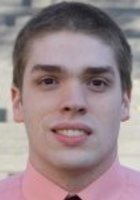 Thomas
Certified Tutor
Growing up in one-stoplight town, I spent a lot of time reading. This blossomed into a fascination with history which has led me to travel around the US and Europe. My love of helping people learn began early as well, with teaching swim lessons in the local pool. I attended college at Transylvania University in Lexington, Kentucky. Surprising, I majored in history and not vampire studies. I worked at a software company, where one of my duties was to train new employees, before moving to England to pursue a Masters Degree in Modern History Durham University. When not in the classroom, I love hiking, swimming, reading, and playing video games.

From my pre-school to my Master's degree, I've found tutors and teachers who helped shape a love of learning in me. Drawing on my own experience, I believe making connections between subjects and personal interests is key to instilling excitement in any topic. Helping students form these connections develops a desire to learn which often lasts beyond succeeding in a single class.
I am happy to assist with a wide variety of subjects from ACT prep to general homework assistance for any age student. My experiences with children outside the classroom as a swim coach and assistant scoutmaster has reinforced my belief that teaching requires positivity, patience, and enthusiasm to achieve success.

Successful learning in a tutoring session needs a good tutor-student relationship, and forming this bond is also a vital part of the teaching process. This allows me to personally challenge and motivate students so they take ownership in their studies. Having struggled with a learning disability of my own, I know there is no single way to learn, and believe adapting teaching methods to fit the individual student is crucial.
Education & Certification
Undergraduate Degree: Transylvania University - Bachelors, History
Graduate Degree: Durham University - Masters, Modern History
Test Scores
ACT English: 31
ACT Reading: 35
GRE Verbal: 164
Hobbies
Travel, Hiking, Reading, Writing, Video Games, Volunteering.
Tutoring Subjects
College English
College Level American History
College World History
Comparative Literature
High School English
High School Level American History
High School World History
Homework Support
Other
Study Skills
Study Skills and Organization
US History
What is your teaching philosophy?
I've always loved learning, but I only developed this interest because of my teachers and tutors throughout my educational experience. It is my goal to help instill that love of learning in those I tutor, not just to help them ace a test or pass a class. I'm enthusiastic about the subjects I teach, and believe students learn best when I am able to connect what I'm teaching, whether it be test-prep or writing a college essay, to their goals and passions.
What might you do in a typical first session with a student?
I like to start the first session by finding out what the student personally hopes to gain from tutoring, beyond what they may have listed in the questionnaire. Getting to know the student is key to their being invested in what we will study together. We will set goals for the sessions, including both long and short-term objectives.
How would you help a student stay motivated?
Helping a student stay motivated is a matter of interesting them in the subject. Much of what a student learns may not be of interest to them initially, and different methods are necessary depending on the student, but I find connecting what they are learning with something they are already good at, or have an interest in can help them. Goal setting often works as well. Some students lose motivation because they are overwhelmed with the topic, so breaking down what they need to learn to succeed helps them reach milestones on a regular basis. This can be remarkably helpful if students are more goal oriented and having to take a class they don't see as worthwhile.
If a student has difficulty learning a skill or concept, what would you do?
Each student learns differently. Frustrated or angry students rarely learn well, so the tutor must be patient and be able to quickly redirect the study session to a different method. Learning part of an idea, focusing on what an idea is not (and then moving on to what it is), visually mapping out a concept, or watching a tutor complete examples can all be helpful ways to explain a concept.
How do you help students who are struggling with reading comprehension?
There are many different ways to help students comprehend what they read. Assuming there is not a visual or cognitive issue preventing reading, which can be aided in several ways, "chunking" sections of a page into smaller parts can be helpful. Once the page is in smaller sections, the student can rephrase in their own words what they are reading after each sentence or paragraph. This is but one of many different ways to deal with comprehension issues.
What techniques would you use to be sure that a student understands the material?
Having a student rephrase ideas in their own words (in other words teaching the topic back to the student), rework example issues, and correct incorrect example work are just a few ways to do this.
How do you build a student's confidence in a subject?
Setting and completing small goals, with appropriate levels of praise are helpful ways to do this. While it is key to correct mistakes or incorrect work, criticism should be done very sparingly and politely. Certainly this all depends upon the student, as some will respond well to being challenged.