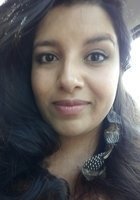 Nitha
Certified Tutor
Learning is a lifelong process, and even the silliest things can be an opportunity to learn. My primary teaching strategy lies in working together to solve problems and fill in the gaps in a student's knowledge. We work through questions together and learn as we solve them. Though medical sciences are my focus, I have a broad knowledge base and use that base to bring science to life. From pop culture to politics, we can find common ground in order to link your everyday interests to your studies!

I've worked with medical students, reviewing information with them and putting a different spin on concepts in order to make those concepts clear. I've also worked with GED prep students who are working out information anew. I have a background in psychiatry, which serves as a testament to the patient, non-judgmental approach that I bring to every interaction.

I enjoy medicine and I enjoy people, and therefore also enjoy sharing information and coming up with new ways to present medical concepts.

I know what it is like to put pressure on oneself to attain a specific grade or a specific title. I also know the profound effects of being able to demonstrate knowledge outside of the classroom. Once a student is addicted to understanding concepts, good grades follow in an effortless manner.

On a personal note, I am often described as "bubbly," "infectious," "down-to-earth," and "a problem solver". Looking forward to meeting you!
Education & Certification
Undergraduate Degree: Melaka Manipal Medical College - Bachelors, Medicine / Surgery
Hobbies
Art, History, Horror movies, X-Men, Psychology, Harley Quinn, Foreign food, Fashion, 60s rock, Breaking down stereotypes
Tutoring Subjects
Anatomy & Physiology
College English
High School English