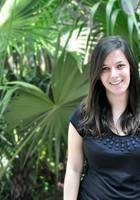 Amy
Certified Tutor
I am a recent graduate of the University of Miami with a BS in Biomedical Engineering. I have had experience working with students of all ages. I was a member of Kids and Culture, a club that promoted education and college opportunities to students in the Miami area. I participated as a weekly tutor, helping students in several subjects. I also worked at Mathnasium, where I tutored various students after school using a math curriculum created by the company, and helped them with their homework and test prep.

I want to help students learn math because I think math is something they can carry through the rest of their lives. With strong understanding and confidence in math, so many more opportunities become accessible. I have always enjoyed math, and would love an opportunity to help students grow and reach their full potential. It is important to help students feel comfortable with their skills, and to teach them how to apply those skills to more difficult concepts as they arise.
Education & Certification
Undergraduate Degree: University of Miami - Bachelors, Biomedical Engineering
Hobbies
Sports, football, tennis, music, movies, animals, reading,
What is your teaching philosophy?
I believe that in order to be an effective teacher, you need to understand how your student is feeling. It is common for students to get frustrated when they do not understand a topic, which can make focusing on their work very difficult. I believe it is important to make the student feel comfortable and try to make their learning experience enjoyable!
What might you do in a typical first session with a student?
In a first session, it is important to get to know the student and make sure they are comfortable with you and the learning environment. It is then important to understand where the student is in their work and what concepts they are struggling with.
How can you help a student become an independent learner?
To help students become independent learners, it is important to let them try a problem on their own. When they are taught a new concept, the student should attempt it on their own to see if they can figure out how to apply what they have learned. Then they should be able to go over any problem or mistakes they may have with the tutor.
How would you help a student stay motivated?
It is important for a student to stay motivated during a session. If they are getting overwhelmed or frustrated with a concept, the tutor should let them take a short break or move on to something different for a change of pace.
If a student has difficulty learning a skill or concept, what would you do?
It is important to figure out the root of the problem. Perhaps the student is struggling with an earlier concept that is causing confusion on something else. I would make sure to start at the beginning to figure out where the complications are coming from.