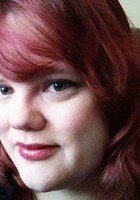 Rachel
Certified Tutor
I believe every student has the ability to learn and thrive. This belief drives my teaching. I have eight years experience tutoring full-time at the community college remedial level. I have also volunteered as a tutor for underprivileged middle school and high school students. I am comfortable tutoring those who are gifted as well as those with learning disabilities.

I tutor a wide range of subjects, but am most passionate about Computer Science, Math, and Test Prep. These are all subjects in which a student can feel completely lost or stuck. In my experience, the small steps which can easily be gained in these subjects make a huge difference. The results are noticeable and applicable.

I am a lifelong learner and am always reading/learning new things. I love theater, knitting, and technology. I am a graduate of Rowan University and Montclair State University earning a Bachelor of Arts in Theater Education and a Master of Arts in Theater Studies.
Test Scores
GRE Quantitative: 165
Hobbies
Active in the theater, I also work as a stage manager.
Tutoring Subjects
College English
Elementary School Math
High School English
Homework Support
JavaScript
Other
Ruby
Study Skills
Study Skills and Organization
What is your teaching philosophy?
I believe every student has the ability to learn and thrive. I enjoy celebrating every success, and using failure as a teaching tool. I try to get to know each student's individual learning style and interests, and use them in the teaching process.
What might you do in a typical first session with a student?
First I try to get to know the student as a person, not just a struggling student. What are his/her hobbies? What are they good at? What do they love? Then I will discuss what they are struggling with. Lastly, we will set goals together for our sessions.