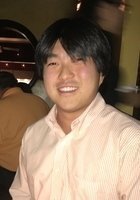 Matthew
Certified Tutor
I grew up in Rochester, NY. I moved to Washington, DC for college at American University, and I received a degree in Political Science and a minor in Marketing. I recently received a juris doctor from South Texas College of Law; I graduated in the top 20 percent with Latin Honors. I chose to move to Houston with my wife for law school, as her family is here and it made a lot of sense for us, especially as we were both looking for warmer weather.

I have prior experience working with students when I was in high school, including providing classroom support to a teacher and working with students one-on-one. I tutor American history and AP US history, as well as any intro-level law school courses.

My tutoring style depends upon the student's learning style and needs. I believe the best results come from a student-specific plan. During the first session, I find it important to talk with my students about their goals and then tailor my approach to meet their needs.

When not tutoring, I enjoy spending time with my wife, our dog, and friends. I enjoy watching any type of sports, but I really love to watch baseball, football, and golf. (Our dog, Yogi, is named after the great Yogi Berra.) I also enjoy playing all types of sports, specifically volleyball and golf.
Hobbies
Baseball, Golf, Volleyball, Skiing, spending time with my family and dog, watching sports
Tutoring Subjects
AP US History
College Level American History
Constitutional Law
Criminal Law
Family Law
High School Level American History
Homework Support
Law
Other
Property Law
Study Skills
Study Skills and Organization
Tort Law
What is your teaching philosophy?
To ask questions and listen to what the student has to say. Also, to observe the student's current habits and attempt to identify the strengths and weakness, and help improve the weaker areas.
What might you do in a typical first session with a student?
I like to ask questions and observe the student to get their baseline. Then I will try a few different strategies with the student to identify the best fit for the student.
How can you help a student become an independent learner?
By providing them with the tools and the confidence to succeed. I find that students often lack the self-confidence to succeed, and that improving their self-confidence is crucial to their overall improvement.
How would you help a student stay motivated?
I need to determine what motivates a student, whether that is doing well in school or wanting to go to a specific college. I would find that motivating factor, and then help them work towards that goal by demonstrating to them how the work we are doing will help them to reach their own goal.