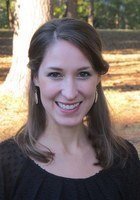 Katrina
Certified Tutor
You could say teaching runs in my veins. My parents are both teachers and "pretend school" was one of my favorite things to play as a child. I've taught Spanish for over 7 years to students from Kindergarten through twelfth grade. I believe that joy is infectious, and when you really love what you're teaching, you pass it on to your students. I'm the teacher at whom the students roll their eyes when I show them yet another corny mnemonic device, but I'm also the one to whom they come to thank the following year for all the things they were able to remember as a result. I love bringing learning to life, helping students connect with the content, and inspiring them to have confidence. My teaching philosophy would be best described by the Chinese proverb (Spanish teacher adaptation) "Give a student a conjugated verb and he passes the quiz. Teach a student how to conjugate verbs and he becomes bilingual." I enjoy finding out what each student's learning style is and creating lessons that will best help him/her understand the information. I am a very patient, positive and enthusiastic tutor who will use my students' time wisely to help them attain their language-learning goals.
Although I grew up with a Hispanic parent, I wanted to learn the language even better so I began studying it in seventh grade and never stopped! I graduated from the lovely, historical College of William and Mary with a BA in Hispanic Studies and received my Virginia certification for Spanish K-12. In addition to teaching, I have also tutored students from a wide variety of backgrounds in Spanish as well as ESL.
I'm a language nerd, having studied five foreign languages (three at the college level). I think the ability to speak to people of other places and cultures is amazing because it allows us to be connected to a global community. Other activities which I enjoy are spending time with my family, running and travelling.
Hobbies
Running, Reading, Bible Study, Karaoke, Dancing, Travelling
What might you do in a typical first session with a student?
I would converse with the student in the target language as much as possible. I would find out what their needs are and review prior knowledge, all the while assessing their strengths, weaknesses, and learning style.
How would you help a student stay motivated?
I would try to make the information relevant. I would relate what they are learning to their interests. I would also remind them of all the concepts which they already understand and give a great deal of encouragement.
How do you help students who are struggling with reading comprehension?
I would help students use context to understand words that they don't know. For Spanish, I would teach some tricks to recognize a word's meaning and explain the similarities and differences in sentence structure of English and Spanish.
What strategies have you found to be most successful when you start to work with a student?
I like to find out what the student already knows. If the foundation is strong, we can move on. If not, we need to work on the basics and then build upon that.
How would you help a student get excited/engaged with a subject that they are struggling in?
Sometimes students get bored in a classroom. The teacher may be boring or not know how to engage every student. The student might feel discouraged because they don't understand what is going on. I will explain everything in detail, even if we have to go back to uno, dos, tres. :) I will teach you songs, rhymes, games, or anything else that will help you enjoy the language.