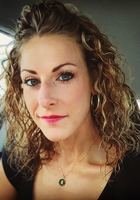 Lindsey
Certified Tutor
I earned my Bachelor's degree from Virginia Polytechnic Institute and State University (Virginia Tech). I studied Animal and Poultry Science and graduated in 2009 and am currently working on being accepted into an accelerated registered nursing program. Further, I have been a scientist in the fields of Pharmacology and Invitro Science for the past 8 years. I have tutored in AP biology and high school level biology, including tutoring for students with learning disabilities such as dyslexia. Not only do I enjoy helping students learn and think on their own; witnessing them explore science with a more open and curious mind is extremely fulfilling. I am a firm believer that truly grasping and learning a concept is more effective than just memorization alone. Positivity is the key to making learning successful. I look forward to helping you attain your goals!

Hobbies
Fitness, Reading, Being Outdoors, Being around animals
Tutoring Subjects
10th Grade Reading
11th Grade Reading
12th Grade Reading
1st Grade Reading
2nd Grade Reading
3rd Grade Reading
3rd Grade Science
4th Grade Reading
4th Grade Science
5th Grade Reading
5th Grade Science
6th Grade Reading
6th Grade Science
7th Grade Reading
7th Grade Science
8th Grade Reading
8th Grade Science
9th Grade Reading
Adult Literacy
Agricultural Science
Anatomy & Physiology
College Biology
College Chemistry
College English
Developmental Biology
Elementary School Reading
Elementary School Science
GED Science
High School Biology
High School Chemistry
High School English
Homework Support
Laboratory
Life Sciences
Middle School Reading
Middle School Science
Other
Study Skills
Study Skills and Organization
Summer
Vocabulary
Zoology
What is your teaching philosophy?
Get excited about learning. The more you learn how to study smarter, the better your success.
What might you do in a typical first session with a student?
I would ask my student the problem areas that exist and their current the study habits. I would also discuss how I could make studying easier and more meaningful for the student.
How can you help a student become an independent learner?
Become inquisitive and learn proper studying and work techniques. Half the battle is learning how to absorb the material correctly.
How would you help a student stay motivated?
Everyone has a job. Some people go to work and some go to school. Right now as a student, your job is to go to school. Take it seriously, because the rest of your life is dependent on it.
If a student has difficulty learning a skill or concept, what would you do?
I would ask the student what in particular the problem is he/she is having with the skill. Diagnosing whether it is a comprehension issue or a lack of knowing the information issue would be key. I would then assist the student in attaining better comprehension and study skills.
How do you help students who are struggling with reading comprehension?
I first work with students on the basics of sounding out the beginning, middle, and ending of words using flashcards. Working the student up to what they are having issues with is key, so that they don't feel so overwhelmed.
How would you help a student get excited/engaged with a subject that they are struggling in?
Giving the student knowledge of proper study techniques and information retention techniques is key to building the child's confidence. Once the child is more confident in themselves and with the course material, I build on that to keep them further engaged.
What techniques would you use to be sure that a student understands the material?
I like to have my students pretend they are teaching me the material, as if I was the student. The more they can do this effectively, the better their information comprehension will be.
How do you build a student's confidence in a subject?
Positivity and reassurance are key when being a tutor. The children are not in this alone. There is always going to be help and guidance if they need it.