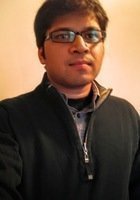 Ayan
Certified Tutor
I like to learn, and teach what I learn. Learning is a wonderful thing, and it should not be difficult. I believe it is my job to explain this to someone who is struggling with learning something new, because all complex things in the universe is built up on simple concepts/structures. The only best way to learn is by both teaching and learning. One of the great things the Islamic prophet Muhammad used to say, "The best among you are the ones who learn and teach what they learn."
Hobbies
Programming, Math, Music.
Tutoring Subjects
Algorithms
C++
College Computer Science
College Physics
Electrical and Computer Engineering
High School Computer Science
High School Physics
Summer
Technology and Coding
What is your teaching philosophy?
My teaching philosophy is to make connections with what the students are interested in with their study material. Everything in the world is connected in one way or another, and it is my responsibility to show that to my students.
What might you do in a typical first session with a student?
Get to know what students are struggling with, and then develop a plan to overcome that obstacle.