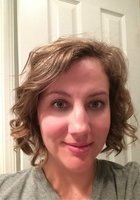 Carolyn
Certified Tutor
I have a BA in Psychology from The College of William and Mary, a Master's degree in Curriculum and Instruction from George Mason University, and a PhD in Educational Psychology and Special Education from George Mason University.

As an Educational Psychologist, I look at each individual learner as a puzzle that needs to be solved. When working with young learners, I see myself as tutoring not just the child, but the parents as well. I want to equip learners with the tools they need to be successful outside of our sessions. I have experience working with students with a variety of special needs, including ADHD, autism, behavioral issues, and lack of motivation.

My approach to test prep sessions is to equip students with the best strategies for test-taking. Test-taking is a skill, and being ill-equipped in that skill area should not be a barrier to your larger goals.
Education & Certification
Undergraduate Degree: The College of William and Mary - Bachelors, Psychology
Graduate Degree: George Mason University - PHD, Educational Psychology and Special Education
Hobbies
Crafting, homeschooling, playing with my children, visiting the Children's Museum of Phoenix, being outdoors
Tutoring Subjects
College English
Elementary School Math
High School English
Homework Support
Other
Social Sciences
Study Skills
Study Skills and Organization
Summer
What is your teaching philosophy?
I am a constructivist educator. This means that my goal is to make meaningful connections between what my student already knows and the material they are attempting to learn. I think students learn best when they are appropriately challenged in a safe learning atmosphere.
What might you do in a typical first session with a student?
In a first session with a young learner, I would spend time discussing their strengths and weaknesses with the parents. I would assess what the learner already knows and develop goals for progress.
How can you help a student become an independent learner?
Many students do not have the self-regulatory and self-monitoring skills necessary to accurately plan and execute school work. My goal is to equip students with specific strategies to accomplish their goals.
How would you help a student stay motivated?
First, I would determine what is personally motivating to the student. The strongest learners are internally motivated - they love learning for the sake of learning. But many struggling learners have to be externally motivated first in order to get to a point where they can love learning. I would discuss with the parents what rewards system we could implement to keep the student motivated. When students start to see improvement and success, they frequently need less external motivation.
If a student has difficulty learning a skill or concept, what would you do?
I would build a bridge between what the student already understands and the new material. Students comprehend best when they have many connections between their knowledge and the new material.
How do you help students who are struggling with reading comprehension?
Young readers can be distracted by the mechanics of reading - they are using all their brain power to figure out words and they forget to pay attention to the content of the material. I help with comprehension by asking many questions. For example, based on the pictures what is happening in the story, what do you think will happen next, why did the character do that?
What strategies have you found to be most successful when you start to work with a student?
For young learners, I find that hands-on materials are very effective. When learning feels like play, students are motivated to keep trying and take educational risks.
How would you help a student get excited/engaged with a subject that they are struggling in?
When students see themselves as failing in a given subject, they can shut down to protect themselves from the likelihood of future failure. In this scenario, I would start with work as simple as possible to give the student some early success. When they feel like they can master the easy work - they are more likely to attempt harder problems.
What techniques would you use to be sure that a student understands the material?
In one-on-one tutoring, it is easier for the teacher to monitor the progress of the student compared to in a classroom setting. I conduct frequent assessments of the student's knowledge to keep track of what they have mastered and what they still need to work on.
How do you build a student's confidence in a subject?
I build confidence with frequent specific praise.
How do you evaluate a student's needs?
I ask parents for samples of the student's work and discuss with the parents the strengths and weaknesses of the child. I also conduct informal assessments of the student's knowledge.
How do you adapt your tutoring to the student's needs?
I adapt to the student's needs by being willing to try any teaching strategy that will work for the student. Tutoring is like an experiment - a good tutor needs to be flexible to discover the best learning modality of the student.
What types of materials do you typically use during a tutoring session?
I like to vary my teaching materials - worksheets, technology, hands-on manipulatives, games, books - whatever works for the student.