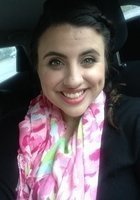 Maria
Certified Tutor
I completed High School in Southern Calabria in Italy, studying Foreign Languages and the Tourism Industry. My love of foreign languages blossomed in High School while studying Latin, Greek, Spanish, French, Italian, English and German. Once I graduated from High School, I attended University at The University of North Carolina at Charlotte, majoring in Business Administration with a concentration in Marketing and Management, with minors in German and Finance. After working one year as a Stock Trader, I pursued my Masters Degree in Fashion Marketing and Merchandising in New York City. These are the degrees I have obtained: Diploma di Maturit delle Imprese Turistiche (Italy), BSBA in Marketing and Management with a minor in German and Finance, Master's of Professional Studies in Fashion Marketing and Merchandising. I have tutored students throughout high school and college, studying German, Italian and Spanish. I have also tutored professional working individuals preparing for business trips to foreign countries. I tutor Italian, German, Spanish and English as a Second Language! I love tutoring foreign languages because there is nothing better than adding enrichment to someone's life! I believe in having fun and thinking outside of the box. There is way more to learning a language than just repeating verbs and phrases; learning a new language is the most exciting journey that you can embark on. My goal is to make it enjoyable, stress-free, and something to look forward to! I won't quit until you get it! I work in Fashion, as a merchandiser for one of the top Off-Price Retailers in the world! With that said, I am very passionate about fashion. I am also very interested in culinary arts. Living in Italy I have learned out to whip up an amazing Italian meal, but I have been working on many Greek and French dishes. So far, I have to say, Greek food is amazing! Lastly, I love music - I attribute learning the majority of my foreign language skills to listening to music!
Hobbies
Shopping traveling, going to concerts, walking my dog, going out with friends, and learning new things!
Tutoring Subjects
1st Grade
2nd Grade
3rd Grade
4th Grade
5th Grade
6th Grade
7th Grade
8th Grade
9th Grade
Advertising
College English
Conversational German
Conversational Italian
Conversational Spanish
Digital Media
Elementary School
German 1
German 2
High School
High School English
Homework Support
Management
Marketing
Other
Spanish 1
Study Skills
Study Skills and Organization
What is your teaching philosophy?
I believe that learning a new language should be fun and exciting! Having to learn a second language myself (when my parents moved us to Europe) has made me realize what the most effective ways to grasp a new language are! I am patient, fun, and persistent! I will not back down until you master the lesson!
What might you do in a typical first session with a student?
First and foremost, get to know exactly what the student is looking to get out of the session. Are you looking to learn the basics for an upcoming trip, learning a particular subject matter for an upcoming exam, or preparing for an international business trip, etc.? I will let start slow and ease into the full on lesson. I will ask each student if they would prefer each lesson in the language of study, English, or a mixture of both! It's your lesson - I am just here to guide you!
How can you help a student become an independent learner?
By giving them the tools, resources, and recommendations to continue the enrichment experience!
How would you help a student stay motivated?
Positive reinforcement, a smile :), and encouragement!
If a student has difficulty learning a skill or concept, what would you do?
Assess what exactly the student isn't grasping and go back for review! We can talk through it together to ensure that you will get it!
How do you help students who are struggling with reading comprehension?
Coach them on how to point out the basics- the 5Ws - who, what, where, when, and why is/are going on! Learning to recognize WHO and WHAT are what is critical for grasping the overall idea of the reading passage.
What strategies have you found to be most successful when you start to work with a student?
Getting to know them, their needs, why they want to learn a second language - and asking them to repeat/review throughout the lesson before layering more on!
How would you help a student get excited/engaged with a subject that they are struggling in?
Show them how exciting learning a new language can be and showcase my empathy for them in their current situation! I have been there, and I overcame it - so can they!
What techniques would you use to be sure that a student understands the material?
Engaging conversations, probing questions, review/revision, and recapping!
How do you build a student's confidence in a subject?
Positive reinforcement and enthusiasm mixed with empathy and patience. :)
How do you evaluate a student's needs?
Thoroughly observing the students strengths and weaknesses mixed with getting to know them and the reason or motive behind learning the foreign language.
How do you adapt your tutoring to the student's needs?
I think it is important to understand the student's learning style right from the beginning of the lesson; are they visual learners? step by step learners? etc. - I will then adapt my style to meet the needs of my students.
What types of materials do you typically use during a tutoring session?
Flashcards Visuals Questions Fill-in-the-blanks Music Video Photos Etc.