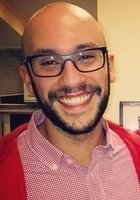 David
Certified Tutor
In June 2010, I graduated from the Gallatin School of Individualized Study and NYU where I studied Jazz Guitar Performance and Creative Writing. Shortly after graduating, I began working as an ophthalmic technician at a private ophthalmology practice in Brooklyn and decided I wanted to pursue medicine.

I completed a post-baccalaureate program at CUNY Hunter College from Fall 2011 to Spring 2013. During this time, I completed two levels of courses in biology, general chemistry, organic chemistry and physics as well as one semester of calculus. I became involved in Hunter's Physical Sciences Center, where I went on to tutor students in chemistry, organic chemistry and physics. I also took on several private students in organic chemistry.

In the Fall of 2014, I matriculated at Stony Brook University School of Medicine in Long Island, where I will soon begin my second year.

When tutoring, I focus on laying down a strong foundation of understanding before delving into the nuances of different subjects. Students too often fall into a cycle of keeping up with material as a series of pieces of information, never understanding the core concepts and attempting to memorize individual facts. With science and math, it is important to dedicate a lot of time when beginning a subject to clearly understand these core concepts. I have found that successfully approaching these subjects in a bottom-up way can mean the difference between continuously struggling frustratingly through courses like organic chemistry and learning to love them.

Completing my first year of medical school has given me a new appreciation for the role that science plays outside of the classroom. I am passionate about these subjects and enjoy passing that passion onto students.
Test Scores
MCAT Biological Sciences: 12
MCAT Physical Sciences: 12
Hobbies
Running, basketball, reading and playing music.
Tutoring Subjects
Anatomy & Physiology
College Biology
College Chemistry
Hebrew
High School Biology
High School Chemistry
What is your teaching philosophy?
Start with a good understanding of the simplest concepts and work your way up.
What might you do in a typical first session with a student?
Assess the student's knowledge of the subject and their level of self-motivation. Begin to set small realistic goals.
How can you help a student become an independent learner?
Teach them in a way that lets them enjoy the subject and therefore become self-motivated. Help them to identify core concepts to work at to establish a strong foundation.