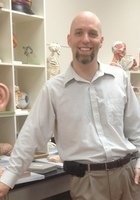 Jerry
Certified Tutor
I have been an educator for over sixteen years teaching more or less any discipline in the biosciences to middle school through college level students. I have studied at Virginia Polytechnical Institute and State University, North Carolina State University, University of Cincinnati, and Vanderbilt University, and throughout my post-bachelor's studies, I have worked with a wide variety of learners including students teachers just about to go out and teach science classes themselves as professional educators. Throughout my time as an educator, I have grown with my students and learned a fair amount about how students learn and some of the common roadblocks faced when confronting challenging topics. One of my favored methods in how to get past those barriers is to unpack an abstract concept (such as mRNA translation, for example) into both cartoon and word pictures so that we all "see" the big picture, then add the vocabulary to the concept once all are ready to move on. Not surprisingly, I am a bit of a story teller and have more than a few book ideas floating around in my brain. I am an active participant in several educator groups and conferences so that I can still learn from my peers, and when I get some time to explore and create, I am an avid video gamer, cook, tomato and pepper gardener, and amateur entomologist.
Hobbies
I am an active participant in several educator groups and conferences so that I can still learn from my peers, and when I get some time to explore and create, I am an avid video gamer, cook, tomato and pepper gardener, and amateur entomologist.
Tutoring Subjects
Anatomy & Physiology
College Biology
Ecology
Entomology
Evolution
Evolutionary Biology
General Biology
High School Biology
Life Sciences
Zoology
What is your teaching philosophy?
My main goal is to teach students how to use the material for themselves. I am a big advocate of critical thinking as a path to best understanding the material; teaching how best to use what needs to be memorized helps create room to grow with the material. And, who knows, it might inspire the next scientist.
What might you do in a typical first session with a student?
Find out what they already know. I ask a lot of questions, so, given a topic, I'd ask for brainstorming. Listening to a student's ideas helps me get a better understanding of how many pieces they already have, and what connections are still needed to put into place.
How can you help a student become an independent learner?
Enthusiasm is infectious. I love biology, and finding out the richer connections about concepts in the discipline is fascinating to me. I try to share that with others so that, as new ideas crop up, they already want to assemble that into their headspace of other knowledge.
How would you help a student stay motivated?
Short activities or experiments go a long way. In nicer weather, a short field trip to clear the mind can turn up a wealth of insects or fascinating curiosities to discuss. Likewise, with a little planning and foreknowledge, I can pull off a short experiment to use as an icebreaker and attention getter for the session.
If a student has difficulty learning a skill or concept, what would you do?
Discuss. Analogies are key to my teaching; if I can better explore a similar situation using the concept, I can help students see it in a way that puts a meaning behind it. I am also an avid doodler, and cartooning out a concept helps me share abstract ideas in a more visual form. Students are welcome to keep the toons and put them on their fridge, too!
How do you help students who are struggling with reading comprehension?
That's a bit of a stretch for me; I am not trained as a reading coach. The tried and true of identifying vocabulary words that pose difficulty and defining them may help, but I would more ask the student as an individual what has worked for them to get by.
What strategies have you found to be most successful when you start to work with a student?
Knowing ahead of time what subjects they are going over helps tremendously. Even a day or so helps me plan out activities around those concepts. I have been an educator for over 15 years, so I have a few tricks up my sleeve.
How would you help a student get excited/engaged with a subject that they are struggling in?
Hands-on activities and storytelling, with a lot of humor sprinkled in. Where possible, I use humor in my analogies, because nobody expects discussions about hormones and cell organelles to be anything but bone dry. The hands-on activities can be concept mapping, manipulating cut outs, or something curiosity-building to keep interest high.
What techniques would you use to be sure that a student understands the material?
"Try your own analogy. Explain it to me in another way." Or, "What's missing? What do we have left to discuss on this?" One of the higher of Bloom's levels is to ensure students can apply a concept on their own; hearing their attempts and questions about the material yet to cover helps me get a clear view of where they are and what more we should work on.
How do you build a student's confidence in a subject?
Solid feedback. Even when somebody is way off, I try to be fun about it, and when they're right, even with a guess, I let them off the hook. "You're right. Tell me why you're right." Doing so takes the pressure off. I also am quick to tell a tutored student that I am not going to give them any grades at all, so sessions are the perfect time to be wrong -- what would it even cost them?
How do you evaluate a student's needs?
The most straightforward way is to ask. "What questions do you have about this subject so far?" can yield good results. However, oftentimes, they may not understand the gaps enough to have a question. Looking over their notes and pointing at pieces to ask if they get what they wrote and how it matters helps give me an idea of where they are at with a given topic. Explanations of the material as we progress also gives me a live test over their comprehension thus far.
How do you adapt your tutoring to the student's needs?
I'm not sure I can make a generic answer out of this question; student needs are as individual as the student.
What types of materials do you typically use during a tutoring session?
Books, both mine and the students. If in-person, I'll try to bring something hands-on. Depending on the age of the student and if web resources are appropriate, I will direct students to view webpages with me; this works nicely for distance learning as well.