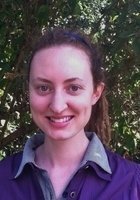 Lauren
Certified Tutor
I am naturally drawn to helping and teaching people. I have two years of experience tutoring Math and Reading to students from preschool to high school age. It was in my high school, in Minnesota, that I began tutoring peers, offering my talents to help people on both the literary and technical aspects of writing, editing, and Math.

At Principia College, in Illinois, I earned a Bachelor's in Environmental Biology. I was a Teaching Assistant for different Biology classes. The Science field requires a entirely different approach to writing and I enjoyed helping my peers make that transition.

I love nature, which is why I chose to study Biology. The desire to learn about amazing things in the real world, or what might help our future, is something that helps students dedicate themselves to education, whichever path they want to follow.

I like to help students find reasons that they can be personally interested in subjects. I am very patient and compassionate, trustworthy, resourceful and fun. In my spare time, I enjoy Yoga, dance, singing and playing music with friends. I also enjoy going hiking, exploring the outdoors, gardening, and cooking healthy food with others. Currently, I am taking a course in Urban Sustainable Agriculture and am excited to keep learning. Additionally, I am very excited to be a Tutor.
Education & Certification
Undergraduate Degree: Principia College - Bachelor of Science, Biology, General
Hobbies
Yoga, dance, music, gardening, healthy cooking, hiking, and outdoors.
Tutoring Subjects
College Biology
College English
Ecology
High School Biology
High School English