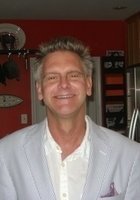 Jeff
Certified Tutor
I have taught freshman writing for 22 years at various universities, including UConn, Temple, and WCU.

I enjoy working one on one with students to improve their composition and grammar skills. There is nothing more professionally satisfying than watching students improve their skills over time.

Moreover, regardless of an individual's present writing competencies, I am convinced that with effort any student can learn to write well. My years of instructional experience have convinced me of this time and again. Indeed, writing is not rocket science, but rather a skill developed through sustained practice.
Hobbies
road cycling and TRX training
Tutoring Subjects
College English
Comparative Literature
High School English
Other
Summer