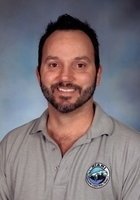 Thomas
Certified Tutor
Growing up in the Ozark Mountains of Missouri gave me a deep love and appreciation of nature and science. So I obtained my Bachelor's degree in Biology with a Chemistry minor from Missouri State University. I have used my degree to work in science research labs, museums, and as a teacher. I have been teaching for over fifteen years and have had great student success in the classroom as well as with my tutoring clients. As a National Board Certified Teacher (NBCT), I strive to continue to master new methods to ensure student success. In addition, I have obtained multiple state teaching certifications, completed over thirty-six graduate hours in Biomedical Science and I am scheduled to finish a graduate degree in Curriculum and Instruction this fall.

I was lucky enough to be selected to work with NASA in 2011 where I led a team of teachers that flew a classroom experiment in Zero-Gravity. The "Worms in Space" experiment allowed me to fly for over ninety minutes on the amazing flight and the experience still inspires my work today. I have been honored by receiving several "teacher of the year" awards from various local, state, and national organizations.

I am excited to be able to do the work that I love - and that is teaching students to better understand the world in which they live by learning science and math concepts. My favorite subjects to tutor are Biology, AP Biology, Anatomy, and Physiology but I am very confident and enjoy teaching Earth Science, Physical Science and Chemistry. As a leaner myself, I recognize that each learner has unique ways in which they learn. I am a very kinesthetic (hands-on)learner, meanwhile others may be visual, artistic, musical, logical, etc. As I teacher and tutor I find it best serves a student to tap into their natural intelligence and build knowledge and skills upon that existing foundation. My passion, knowledge, and experience helps me insure that each student will learn to the best of their abilities.
Education & Certification
Undergraduate Degree: Missouri State University - Bachelor of Science, Biology, General
Hobbies
Playing tennis and volleyball. I enjoy going to the beach. Watching great new movies and trying new places to eat.
Tutoring Subjects
6th Grade Math
7th Grade Math
8th Grade Math
Anatomy & Physiology
College Biology
College Chemistry
Elementary School Math
High School Biology
High School Chemistry
IB Biology
Middle School Science
Physical Science