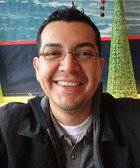 Christopher
Certified Tutor
Confidence is key!

I have always had a passion for math and science and the application of Chemistry in the fields of medicine and pharmacy. This passion becomes evident in my teaching and tutoring by helping students learn the subject in a manner that promotes critical thinking and self-confidence while motivating them to achieve their educational and career goals.

For the past three years I have worked as a community college adjunct lecturer of Chemistry where my teaching responsibilities include lecturing General Chemistry and Organic Chemistry. Many of my students have given positive feedback in course evaluations and have indicated that they enjoy my teaching style and appreciate my use of real world examples to strengthen their understanding of basic chemical principles. In addition, I feel that I pay great attention to my students so that I can quickly identify when there is a lack of understanding and can adapt my explanation with additional examples until I am confident that the student fully understands the topic.

My experience tutoring Math and Chemistry includes working with students of all ages from elementary to graduate level. In my opinion, confidence is key when learning a new subject. Im comfortable with helping students of all ages learn the subject matter to promote confidence and understanding that helps in future learning, not memorization.

I have teaching experience in the following courses: CHM80: Principles of General Chemistry, CHM151/152: General Chemistry for majors, and CHM235/236: Organic Chemistry for majors.
Education & Certification
Undergraduate Degree: University of Arizona - Bachelor of Science, Chemistry, Molecular & Cell Biology
Graduate Degree: University of Michigan - Master of Science, Chemistry
Graduate Degree: University of Arizona - Doctor of Philosophy, Pharmaceutical Sciences (Medicinal Chemistry)
Hobbies
Research, teaching, reading
Tutoring Subjects
7th Grade Math
7th Grade Science
8th Grade Math
8th Grade Science
9th Grade Math
College Chemistry
High School Chemistry
Middle School Science