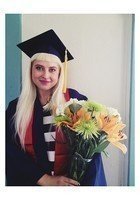 Lorna
Certified Tutor
I am a recent graduate from the University of Arizona here in Tucson, Arizona. For my undergraduate studies, I majored in Ecology and Environmental Biology, with minors in Chemistry and Art History; I am in the process of applying for graduate school to study Environmental Sustainability. My love of nature and the outdoors really strengthened my desire to pursue a career in environmental science. Although science is what I have chosen to study, I am extremely strong in the areas of reading, writing, editing, history and general social studies. In high school I excelled in AP Composition, Literature, World History, and European History. My test scores from high school reflect a strong understanding of the material, and I also excelled at the SAT Subject Test for Literature. I have been working for Varsity for over 5 years, and have tutored a wide range of students of all ages. I am very comfortable with children who might be shy or nervous working with a tutor, as well as those who are not too enthused about having any extra work! My tutoring style involves incorporating not only the review of the material but also practice in how to take notes, become an active and engaged learner, and improve in critical thinking.
Education & Certification
Undergraduate Degree: University of Arizona - Bachelor of Science, Biology, Chemistry Minor
Test Scores
SAT Composite (1600 scale): 1510
SAT Verbal: 800
SAT Writing: 740
Hobbies
Traveling, reading copiously, crossword puzzles, working with kids and animals
Tutoring Subjects
10th Grade Writing
11th Grade Writing
12th Grade Writing
7th Grade Reading
8th Grade Reading
8th Grade Science
8th Grade Writing
9th Grade Reading
9th Grade Writing
Adult Literacy
American Literature
AP English Language and Composition
AP English Literature and Composition
College English
College Level American Literature
Comparative Literature
Expository Writing
High School Biology
High School Chemistry
High School English
High School Level American Literature
High School Writing
HSPT Language Skills
HSPT Reading
HSPT Verbal
Middle School Reading
Middle School Science
Middle School Writing
Other
Persuasive Writing
Study Skills
Study Skills and Organization
Vocabulary
What is your teaching philosophy?
My goal is to work with each student on an individual level to figure out how they learn and retain information best, and then work to teach them the tools they need to succeed on their own. I aim to not only push information into my students, but to help them improve on how they listen and learn in class, take notes, study on their own, stay motivated and not get discouraged by difficult material or challenging concepts. If I can get them to enjoy learning, that is an additional plus!
What might you do in a typical first session with a student?
Upon meeting a student for the first time my main purpose is to learn as much as possible about them and their academic status: where they are struggling, how they have been previously tackling the material, how much work they have been/are willing to put into it, if it is a matter of only content understanding or if there are underlying issues such as test anxiety, etc. I want the student to feel comfortable with me, so that they can tell me when they do not understand something or if they are especially worried or nervous about an assignment or test. If the student is young, I will talk to the parents about how their child has been doing and what they have observed that made them decide to invest in a tutor. For older students, especially college age, I make it clear that while I will help in any way that I can I cannot do their work for them- I am there to teach them how to write better, learn better, and study better, not simply have them watch me. If it is a short-term assignment, such as test prep, I will work to devise a tutoring and studying schedule that the student thinks is feasible so that they have a timeline for studying. If it is a long-term assignment, such as a college student who will consistently need help with writing, I will want to look at their syllabi and the major assignments for the course of the semester so that I can help them not procrastinate and so we can plan in advance. Overall, the goal of my first session with students is to understand their area of difficulty and what would help them the most so that I can effectively tailor my tutoring to help them succeed.
How can you help a student become an independent learner?
The goal of tutoring is not only to have the student's grades or test scores improve, but to have them create a toolbox for their future studies so that they can succeed on their own. This often includes some degree of trial and error, working to find out how they study best and where their weaknesses are. Some students learn best with repetition- notecards, online quizzing resources, and re-writing material can be part of what they do to study. If absorbing material from textbooks is a problem, we will experiment with different methods of keeping them engaged: how to highlight/underline/note take effectively, how to pick out the important elements from a chapter, or how to use the resources from the teacher to figure out what in the textbook they need to focus on. For students who are visual learners we might practice drawing out timelines for literature or history, watching informational videos on the subject, creating study guides with pictures and visual guides to keep them engaged. Students who struggle with writing often make the same mistakes consistently, so it can be helpful to keep a notebook or Word document of things for them to check on in their own writing- transitions, passive voice, short sentences, not analyzing quotes, etc. Each student is different, and after time with a tutor they should have learned not only the material but also more about themselves and how they learn best.