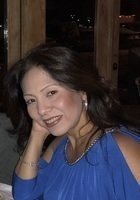 Mary
Certified Tutor
I am a graduate of Queens College of CUNY. I received my Bachelor of Arts in Spanish and my Master degree in Education.
I have been in the Department of Hispanic Language and Literature at Queens College since 2004. I teach Beginner and Intermediate Spanish courses for undergraduate students.
I was born and raised in Lima, Peru. I am so proud that my two children, 16 and 13 years old, are fluent in Spanish.
I love communicating and interacting with my students. I am deeply committed to my students success. I believe that all people can learn and thrive in an environment that is stimulating, comforting and appropriate to people's abilities.
When I am not teaching, I love spending time with my children, playing with my cat, walking, baking and cooking.
Hobbies
I enjoy cooking, baking, walking and traveling. I am a cat lover.