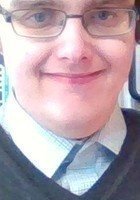 David
Certified Tutor
I got my Bachelor's Degree in Children's Literature at Eastern Michigan University, and I'm currently working on a Master's Degree in Teaching at the University of Maryland Global Campus. I mainly have experience working with the Latino Student Fund as a volunteer tutor since 2019.

My goal is helping students with any problems they have with Reading, Vocabulary, Writing, and understanding Literature. I am passionate because of my love of reading and wanting to help students understand the themes and ideas that are in books.

My tutoring philosophy is to be patient and understanding with students, while making sure that they're able to focus on working in areas that they are struggling with.

My interests outside of academia include reading, playing video games, and watching animated programs.
Hobbies
My interests are: Reading books (preferably fantasy/adventure) Playing video games (mainly platformers and RPGs) Watching animated shows and movies
Tutoring Subjects
Elementary School
Elementary School English
Elementary School Math
Elementary School Reading
Elementary School Writing
Middle School English
Middle School Reading
Middle School Writing
Other