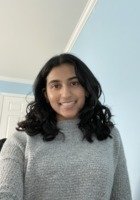 Meera
Certified Tutor
I graduated from Georgia Institute of Technology (Go Jackets!) this past December with a bachelor's degree in Civil Engineering. From my time in National Honor Society in high school tutoring K-12 students in my town through my time at Tech as a class tutor, I've always engaged in my communities through this work. My passion led to my College Reading and Learning Association (CRLA) International Tutor Training Program Certification (ITTPC). While I have tutored a multitude of courses from varying subjects, math will always be my favorite subject to tutor; I find that there is beauty in exploring multiple paths of a problem to reach the same answer.
With respect to my tutoring style, it is of the utmost importance to me that each session, my students leave having an "A-ha! moment" (a takeaway from the session), which I achieve my focusing on students' individualized goals. This is only possible through connecting (beyond our relationship as tutor-tutee) with my students, where they can lean on me as a friend for advice or to talk about their day. I believe we achieve the most as a team when students look forward to meeting with me, even when we'll be looking at the subjects they dread the most. It is my students that always inspire me to return!
In my free time, I love be outside going on runs/walks, reading, and baking. I also love going to see stand-up comedy and watching club soccer (Premier League)!
Hobbies
Baking, reading, being outside, watching stand-up comedy, watching club soccer, trying new food, travel