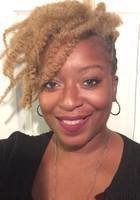 Angela
Certified Tutor
Hi students! I am happy to make your acquaintance! My name is Angela Walter and I have been a teacher/tutor for more than 10 years. My passion is Language Arts and Reading. I graduated from Rice University with a degree in English Literature.

My experience teaching includes a wide spectrum of students, ranging from elementary to the collegiate level. My teaching journey began when I spent 5 years in Tokyo, Japan teaching English as a second language to college students, young professionals and adults. This was a wonderful experience where I discovered my love for teaching. When I returned to the States, I taught ESL (English as a Second Language) for grades 6-8. Then, I went on to teach English Language Arts for a High School charter school - grades 9-12. One of my most recent and satisfying experiences involved teaching online English classes to elementary-aged children in China.

I love to have fun in my lessons! My teaching philosophy is that every child can and will learn when you are able to connect with them. I strive to make those connections in every lesson.

I am so looking forward to getting to know you and helping you achieve your academic goals! Let's get started today!
Education & Certification
Undergraduate Degree: Rice University - Bachelor in Arts, English
Hobbies
I have an interest in many things. I love trying new things and going to new places. So, one of my favorite hobbies is traveling. I don't get to do much of that these days. I also enjoy reading a good thriller or mystery novel. I love to sing - karaoke!!!! I also have a passion for baseball (GO 'Stros!). Lastly, anyone who knows me knows that cats are my spirit animal! I have 3! Bonus points if you call me 'Crazy Cat Lady' during our lesson! :)