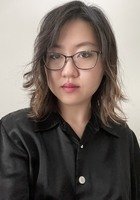 Katherine
Certified Tutor
I am a graduate of Hamilton College, with a Bachelor of Arts in Creative Writing and a minor in Cinema and Media Studies. I have a passion for teaching students English, writing analysis skills, and Literature, and have tutored these subjects to both middle and high school students in New Jersey, and college students in New York. In my lessons, I encourage my students to gain new insights and perspectives about literature, English, and various written works, especially when I teach them how to approach the Critical Reading and Writing portions of the SAT. I was previously a Teacher's Assistant to multiple Literature professors during my college years. When I'm not teaching and reading, I enjoy Latin dancing, blogging about media and entertainment, and analyzing cinema.
Education & Certification
Undergraduate Degree: Hamilton College - Bachelor of Fine Arts, Creative Writing
Test Scores
SAT Composite (1600 scale): 1560
SAT Math: 800
SAT Writing: 760
SAT Subject Test in Literature: 750
Hobbies
I teach salsa and bachata to interested parties, and choreograph routines for dance performances. I also like to watch and critique films, whether on Letterboxd or on my personal film blog.
Tutoring Subjects
College Application Essays
College English
College Level American Literature
Fiction Writing
High School English
Introduction to Fiction
Other
SAT Subject Test in Literature
SAT Subject Tests Prep