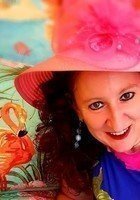 Karin Alissa
Certified Tutor
I am a highly dedicated, creative, and passionate educator with a Master of Arts in Teaching Foreign Languages with a Major in French from the Lewis & Clark Graduate School of Education & Counseling, and a Bachelor of Arts in Music from Lewis & Clark College, with whom I had a full tuition undergraduate scholarship. I have over 15 years of experience in education, including over 10 years of experience teaching French. I earned my 5-year FL Professional Certificate for World Language - French, Grades K-12, the highest teaching certificate the state of FL has to offer.

I also possess the Diplme d'tudes franaises et the Diplme approfondi de langue franaise from the Universit de Nancy II in Nancy, France, where I had the unique privilege of studying abroad. I also have a certificate in International Studies from Follo Folkehgskole in Vestby, Norway.


In addition to tutoring with Varsity Tutors, I am currently a Distance Learning Associate Language Instructor for Yorktown Systems Group, Inc., where I tutor French to adult students in the military preparing for the OPI and DLPT exams.

I taught or tutored French for or at the Virtual Schools of Excellence, Palm Beach Atlantic University, Palm Beach State College, Palm Beach International Academy, Lexington Independent Home School, La Roche College, the Franciscan University of Steubenville, Mt. de Sales Academy, Saints Peter and Paul High School, Seton Keough High School, Central Catholic High School, the Community College of Baltimore County, and Foreign Exchange, Inc.

Other subjects I have taught include Music for Worship, Choir, Drama, Speech, Band, Music History, Musical Theatre, Private Piano, Ballet, and French Immersion Piano and Creative Dance.

It has been my great privilege to serve the poorest of the poor for seventeen years as a Lay Missionary of Charity.

Test Scores
SAT Verbal: 710
Hobbies
I enjoy ballet, ballroom, choir, choreography, cooking, French, hiking, piano, pro-life ministry, travel, voice, volunteering with the homeless, reading, and spending time with my devoted husband and our adorable pets.