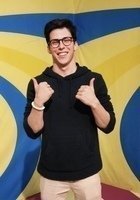 Ken
Certified Tutor
I am a Computer Science major currently enrolled in the Barrett Honor's College at ASU. I went to high school at Brophy College Preparatory in Phoenix, AZ. I specialize in most subjects related to math... subjects such as: Algebra (1 & and 2), Honors Pre-Calc, AP Calculus AB, PSAT Mathematics, and SAT Mathematics.

I am passionate about these subjects, and seek to assist students who are struggling so that they can achieve the success they desire... and to make the experience a little more enjoyable along the way!
Test Scores
SAT Composite (1600 scale): 1440
SAT Math: 710
SAT Verbal: 730
Hobbies
I love working on practice problems for coding. It's something I am passionate about, so being able to learn how to work through problems is perfect for me. I believe it's the best and most practical way to learn.
Tutoring Subjects
Computer Programming
Technology and Coding