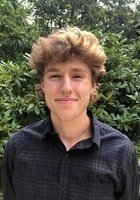 Jackson
Certified Tutor
I graduated Wesleyan University where I received my degree in molecular biology and biochemistry with minors in education studies and chemistry. My education gave me both real world tutoring practice and insight into the psychological and sociological dimensions of education in the United States. I have long been involved in teaching/tutoring. Before attending University, I tutored students aged 8-13 at a YMCA afterschool program in reading, writing, and math. Separately, I tutored high school aged students for the AP biology exam. At Wesleyan, I worked as a teaching assistant for multiple courses over several years.
As a teaching assistant for introductory biology, I conducted classroom review sessions, focused on cellular and molecular biology, to improve students' grasp on course material and to help with challenging and confusing concepts. I then spent time as a teaching assistant for introductory biology laboratory where I headed weekly experiments for 16 students, focused on exposing 1st year students to a variety of laboratory techniques including PCR, gel electrophoresis and spectroscopy. Here I gained experience evaluating lab reports to provide students with feedback and advice for scientific writing. I now work as a Chemistry Teaching Fellow for Phillips Academy Andover. At Phillips Academy, I teach 2 sections of introductory chemistry for 9th and 10th graders in hybrid and in-person settings. My teaching primarily focuses on giving students the tools to understand energy as it relates to chemical reactions, to explore the concept of equilibrium, and to use models and theories to help students qualitatively understand atomic structure and bonding. I help students learn a variety of study skills and complete numerous laboratory experiments designed to acquaint them with fundamental Chemistry principles and to build skills in the methods and techniques used to elucidate those principles. Further, at Phillips Academy, I collaborate with a 10-person chemistry department and teaching mentor to revise curriculum, develop innovative lesson plans, and expand grading methods. I am extremely well versed in all areas of biology and chemistry and while I have experience tutoring a broad range of subjects, I am most excited to tutor biology and chemistry. I love to teach. I understand how difficult school can be, and I have had my fair share of struggles with varying course material. Whenever I am struggling, I have always looked for guidance from my teachers and tutors to help me when I need it. I want to help students the same way my teachers and tutors have helped me. I am thrilled to be a part of this process, and I want to help in any way that I can.


Education & Certification
Undergraduate Degree: Wesleyan University - Bachelor in Arts, Biochemistry and Molecular Biology
Test Scores
SAT Composite (1600 scale): 1440
SAT Math: 720
SAT Verbal: 720
Hobbies
I love the outdoors. I enjoy hiking, camping, and swimming. I love to play soccer, whether it is competitively or just kicking the ball around with my friends. I play pick-up volleyball as well and enjoy playing in my free time. I like to read fantasy and science fiction novels. I also enjoy baking bread and the occasional chocolate chip cookie!
Tutoring Subjects
College Biology
High School Biology
High School Chemistry
Social Sciences