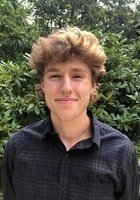 Jackson
Certified Tutor
I am a junior at Wesleyan University where I am studying to receive my undergraduate degree in molecular biology and biochemistry. I am also an education studies minor with focus on the psychological and sociological dimensions of education in the United States. Before attending University, I tutored children at a YMCA afterschool program in reading, writing, and math, and tutored high school students for the AP biology exam. Since attending Wesleyan, I worked as a teaching assistant teaching introductory biology 1, focusing on molecular and cellular biology, and tutored introductory chemistry and introductory biology 2, focusing on ecology and evolution. I am extremely well versed in all areas of biology and chemistry and while I have experience tutoring a broad range of subjects, I am most excited to tutor biology and chemistry. I love to teach. I understand how difficult school can be and have had, and continue to have, my fair share of struggles with varying course material. Whenever I am struggling, I have always looked for guidance from my teachers and tutors to help me when I need it. I want to help struggling students the same way my teachers and tutors have helped me. I am thrilled to be a part of this process, and I want to help in any way that I can. In my experience with helping struggling students with biology and chemistry, both the students and I always have the most fun when we work through their struggles together and reach that moment of clarity where the problems all come together and become clear. In my spare time I enjoy playing soccer and volleyball, running, and reading fantasy novels.
Education & Certification
Undergraduate Degree: Wesleyan University - Bachelor in Arts, Biochemistry and Molecular Biology
Test Scores
SAT Composite (1600 scale): 1440
SAT Math: 720
SAT Verbal: 720
AP Biology: 5
AP Chemistry: 3
AP Statistics: 3
AP English Language: 3
Hobbies
I love the outdoors. I enjoy hiking, camping, and swimming. I love to play soccer, whether it is competitively for the club team at Wesleyan or just kicking the ball around with my friends. I have recently started playing pick-up volleyball as well and enjoy playing as much as possible. I like to read fantasy and science fiction novels. I enjoy baking bread and the occasional chocolate chip cookies. I am also interested in the environment and environmental conservation work. Lastly, I love to learn and teach because I enjoy working with people to solve problems.
Tutoring Subjects
College Biology
High School Biology
High School Chemistry
Social Sciences