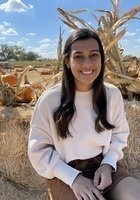 Nina
Certified Tutor
I am a senior at the University of Texas at Austin studying Civil Engineering. I am graduating in May 2022, and I will be starting at Boston Consulting Group in Fall 2022. I really enjoy tutoring students, and I have had a multitude of tutoring experiences in the past, from teaching violin and music to teaching younger students in areas of help they need. I attended a Math and Science Academy for High School, and throughout high school, I tutored in many AP subjects as well as SAT tutoring. I tutor a broad range of subjects, but I am most passionate about Math and Science topics. I really enjoy talking to students, and I am a firm believer of teaching students in their own individual way that most fits their learning style. I am committed to teaching your student, and I am excited to get to meet you!
Test Scores
SAT Composite (1600 scale): 1520
SAT Math: 780
SAT Verbal: 740
Hobbies
In my free time, I enjoy baking, dancing, playing my violin, and traveling!
Tutoring Subjects
Elementary School Math
Elementary School Reading
Elementary School Science
Elementary School Writing
High School English
High School Writing
Middle School Reading
Middle School Reading Comprehension
Middle School Science
Middle School Writing
Music
STAAR EOC Prep
Violin