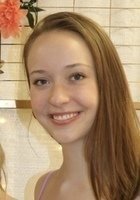 Margaret
Certified Tutor
I am a recent college graduate from the George Washington University excited to share my passion for learning and critical thinking with other students. I have worked with students during a service opportunity working at a school, and during a summer as a nanny. I studied Business Economics and Mathematics, and am happy to tutor in Algebra I and II, Business, Economics, Microeconomics, Pre-Algebra, Math and ACT English, Math and Science! I love tutoring all subjects, but I especially love to see students think creatively and learn in Economics, and I also love the analytical problem solving of tutoring algebra. My teaching philosophy is to do my best to impart the skill of understanding the root of problems to students; I want students I tutor to feel excitement from learning and gain intuition on how to approach educational problems in a comprehensive way. I also want to form unique and personalized relationships with all of my students so there is a sense of comfort and respect in the learning environment.

Outside of the classroom, I love to exercise, read, listen to music, swim, cook and spend time with my family and friends.

I am patient, creative, and look forward to helping students reach their full potential.
Education & Certification
Undergraduate Degree: George Washington University - Bachelor in Business Administration, Business and Managerial Economics
Test Scores
ACT Composite: 31
ACT English: 35
ACT Reading: 34
Hobbies
Working out, cooking, traveling, reading, watching movies
Tutoring Subjects
Business
High School Economics