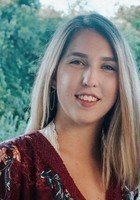 Sarah
Certified Tutor
I am a student at Trinity University currently studying biochemistry. I have experience as a tutor my senior year at Clear Lake High School, when I worked as an instructor at Mathnasium. I also volunteered in a program helping students with SAT prep and college applications. My favorite subject to tutor is math, because the clear cut answers of mathematics make it easy for a student to see their progress and build their confidence, which for me is the best part of tutoring! My teaching style is very flexible, as everyone has different needs, but I usually use a lot of socratic questioning. Outside of academics, my interests include singing, soccer, and most recently, rock climbing!
Education & Certification
Undergraduate Degree: Trinity University - Bachelor of Science, Biochemistry
Test Scores
SAT Composite (1600 scale): 1580
SAT Math: 800
SAT Verbal: 770
Hobbies
I love singing, soccer, and most outdoor activities. I'm absolutely obsessed with musicals, and I'm a fan of the Nashville Predators in the NHL!
Tutoring Subjects
College Application Essays
Other