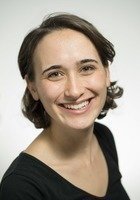 Anya
Certified Tutor
Hello, my name is Anya and I am a teacher and actress in NYC. I recently moved back from France where I lived for the last three years working as an elementary school teacher and professional actress. Having struggled with dyslexia throughout my high school and college days, learning how to learn has been a life-long process and I apply all the tools, patience and determination I have gained into my own teaching practice. I am high energy, encouraging, and interested in understanding how you learn best so we can create study practices together that can serve you throughout your academic career.
Education & Certification
Undergraduate Degree: Kalamazoo College - Bachelor in Arts, Theater Arts
Graduate Degree: L'École Internationale de Théâtre Jacques Lecoq - Certificate, Theater Arts
Hobbies
Rock climbing, frisbee, yoga, travel, mime and mask making.
Tutoring Subjects
American Literature
Conversational French
Elementary School English
Elementary School Reading
Elementary School Writing
Executive Functioning
High School English
High School Level American History
High School Level American Literature
High School Writing
Learning Differences
Middle School English
Middle School Reading
Middle School Reading Comprehension
Middle School Writing
Other
Study Skills
Study Skills and Organization