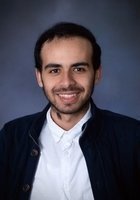 Omar
Certified Tutor
What do you want to be when you grow up? It's in our nature to spend entire lives in a journey trying to discover our purpose in this world and answer a seemingly easy question. For me, an occupation is more than a job, it is a corner stone of our purpose of existence. We go through elementary and middle schools trying to navigate our sense of belonging, discover our passions and aspire for a field where we can distinguish ourselves. As we get older, we start to see the different factors navigate our choices in the fields of study and shape our career paths. Every chapter in my journey have led me to pursue a career in dentistry. A career that can truly satisfy my passion to help others and improve the society in the most humane way; healing.

I am a recent General Biology graduate from the University of Maryland, College-Park, on a pre-dental track. As a student, I had a mentorship experience for BSCI160 (Principles of Ecology and Evolution) an introductory Biology class. This experience have deepened my understanding of mentorship and further develop my teaching philosophy.

I strongly believe that a student needs to develop an interest in the subject in order to be able to cope with the exams and the levels of stress during a semester and also to love the material they're studying because that will make their life easier. My mentorship philosophy is to be able to explain complex material in a simple manner using easy vocabulary to make sense to audience. When I am able to explain complex subjects in a very simple way to students this only shows that now I am able to truly comprehend the material. When students get introduced to a subject, the first step is always to simplify as much as possible and this is when a true mentor becomes obvious. In my class it was easy and sometimes compelling to use 'big words' to deliver my message across as I have learned such materials so much in depth at this stage, however trying to explain it in the simplest manner possible was the real challenge. Then I try to work problem from easier to harder level as the students starts to better comprehend the material. It's important for students to grow both academically and personally after taking a class; in fact that is the ultimate goal. And they cannot grow unless they are pushed to get out of their comfort zone, face a challenge and overcome it.

Outside of academia, you can usually find me playing soccer or video games, reading novels, working out in the gym, fishing or touring some place in Washington DC.

I look forward to working together in the future!
Test Scores
SAT Math: 710
Hobbies
Soccer, ping-pong, fishing and reading
Tutoring Subjects
Anatomy & Physiology
Arabic
Cell Biology
College Biology
DAT Perceptual Ability
DAT Survey of the Natural Sciences
Developmental Biology
Ecology
Elementary School Math
Evolutionary Biology
High School Biology
Marine Biology
Middle School Science
Molecular Biology
Plant Biology
SAT Subject Test in Biology E/M
SAT Subject Tests Prep