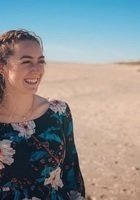 Felicia
Certified Tutor
I am a current student of mathematical statistics at Wake Forest University. I have previously worked in cybersecurity doing independent contracting and an internship at Deloitte. I accepted full time at Deloitte in cybersecurity and will be working there full time after I graduate in May. In my free time, I love to play piano, read books, hike, and be active. I decided I wanted to tutor because I am also very passionate about math, and I want to share that with others.
Education & Certification
Undergraduate Degree: Wake Forest University - Bachelor of Science, Mathematical Statistics and Probability
Test Scores
ACT Composite: 32
ACT English: 34
ACT Reading: 35
ACT Science: 31
Hobbies
Yoga, drawing, painting, reading, and hiking.