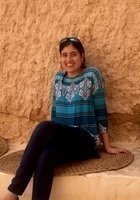 Sanika
Certified Tutor
I am currently in the Accelerated B.S./M.D. program at the Northeast Ohio Medical University (NEOMED). I recently graduated with a Bachelor in Science in Biology from Youngstown State University. I will begin medical school at NEOMED this year.

Throughout my college experience, I have extensively tutored at the Center for Student Progress Tutorial Services, an on-campus tutoring center dedicated to facilitate student learning one-to-one. I have worked with both regular high school and college students, as well as non-traditional individuals. This has given me a broad exposure in dealing with a variety of students. As a pre-med student, I am most passionate about the Sciences and have tutored the many disciplines in it, ranging from the fundamental Basic Sciences like Biology and Chemistry to higher-level classes like Quantitative Analysis and Biochemistry.

While I do feel it's absolutely important to cover the content learned in classes, I always try to bring in the relevance it has to the outside world. From my experience, this has not only placed my students in the front seat among their peers, but it has also made the sessions much more fun and interactive. I am always open to new ideas from my students, as I have always been fond of this reciprocal nature of the tutoring process. I am a strong believer that learning is a continuous process and is not limited to the classroom. It is important to learn from each other's experiences and that's why I always keep a stress-free environment during the sessions.

Apart from school, I love traveling and experiencing different cultures. In fact, I've been to over 17 different countries (and counting) so far! I'm a big music lover and even compose music on the piano in my spare time. My other hobbies include Indian Classical dance, badminton, and swimming.
Test Scores
ACT Composite: 31
ACT Math: 33
ACT Science: 34
SAT Math: 730
Hobbies
Travelling, Piano, Indian Classical dance, Badminton, Swimming
Tutoring Subjects
Anatomy & Physiology
College Biology
College Chemistry
High School Biology
High School Chemistry