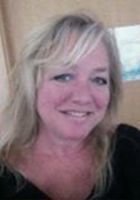 Jennifer
Certified Tutor
Hello,
I have my Bachelor's degree in Fine Arts Painting and a minor degree in English Literature. After University I moved to Rome, Italy to dedicate myself to painting and started tutoring French and English as a Second Language.
In 1985, I moved North to Bolzano Italy, where I started teaching High School English and English Literature, and since then continued teaching until I moved back to Chicago in April 2017 to be my mother's caregiver.
In 2007 I was part of a small team who founded a Waldorf High School in Bolzano where I taught English, English Literature, Art /Painting and Drawing, French and any other subject we didn't have staff for, including typewriting and gym.
After we were full staffed I continued with English, English Lit, Art, I became the Vice Director of the school and I was also responsible for correcting Essays and Thesis Papers for content and linguistics in English, Italian and German. As Foreign Exchange Coordinator for 10 years, every year in January, I sent 11th graders around the world to English speaking countries to improve their English and when they came back after 7 weeks I did the 11th grade Musical with them, among which: Sister Act, Mamma Mia, Sound of Music, HAIR and others.
I was also responsible for Continuing Education, for our graduating students, in their choices for their future. I speak Italian fluently and lived in Italy for over 30 years; learning, understanding and living the Italian Language and Culture.
I love teaching and I love sharing positive energy with students.
I believe that we can learn as much from our students as they can from us.
I am very happy to be part of the Varsity Tutors Team.

Hobbies
I don't have any hobbies per se, but I have many interests: cooking, films, reading about Quantum Physics, studying in general, going to the gym and singing.
Tutoring Subjects
Adult ESL/ELL
AP English Language and Composition
AP Italian Language and Culture
AP Studio Art: Drawing
Conversational Italian
IB Language A: Language and Literature
Middle School Reading
Middle School Reading Comprehension
SAT Subject Test in Italian with Listening