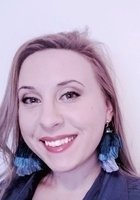 Shelly
Certified Tutor
You are a digital citizen exploring the world with the click of a mouse. You want to gain a better understanding of English but have a hard time achieving your learning goals.

I believe that all learners are unique and have something special that they can bring to their own education. My goal is to help them express themselves and accept themselves for who they are, as well embrace the differences of others.

My role as your teacher will be to assist you in developing your own potential and learning style. We will discuss a wide range of themes and develop learning goals.

My lessons focus on how to make the content relevant to your life and incorporate technology into positive learning habits. You can expect lessons to be interactive, cooperative, projects, themes, and strengthen autonomous learning that engages and inspires all.
Hobbies
Videogames. Fashion and Beauty, Science and Technology. Culture and Travel. Current Events and Pop Culture. History and Biology.
Tutoring Subjects
Academic Coaching
ACCUPLACER ESL
ACCUPLACER ESL - Reading Skills
Adult ESL/ELL
Adult Literacy
Basic Computer Literacy
Elementary School English
High School English
Middle School English
Other
Study Skills
Study Skills and Organization
Technology and Coding