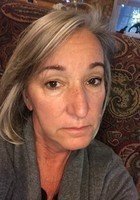 Carol
Certified Tutor
Personal Philosophy
1. Educating is an all-encompassing responsibility not undertaken lightly but with dedication, determination and a sense of humor that will lead and guide students to their fullest potential.
2. Follow the Golden Rule: Treat others the way you want to be treated. This includes not only the students but also professionals and parents involved in the life of the student.
3. Provide students with positive feedback constantly. Positive statements can promote self-worth, self-image and pride in the classroom community.
4. It is not an inability to learn but my own inability to teach when a student lacks progress. It is my responsibility to challenge not only my learners but to challenge myself.
5. Do not beat dead horses. A mistake can be learned from but no one benefits with constant reminders and a lengthy autopsy.


Hobbies
Exploring, Travelling and Art
Tutoring Subjects
Elementary School Math
Elementary School Reading
Middle School Reading
Other