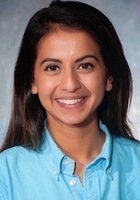 Ambika
Certified Tutor
Hi there! My name is Ambika and I am a medical student at the University of Virginia School of Medicine. I have been studying for rigorous exams and tutoring them my whole life, so I completely understand the frustrations associated with learning complex topics, especially for the first time. That being said, I believe that with good mentorship, anyone can become a master of any subject. I take a patient approach with my students and I believe that positivity is very important. I look forward to working with you!
Test Scores
SAT Composite (1600 scale): 1530
SAT Math: 770
SAT Writing: 800
MCAT: 34
Hobbies
I've danced competitively and as a teacher for 15 years!