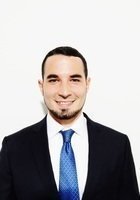 Conor
Certified Tutor
I am currently a medical student in Philadelphia, and have a degree in Biomedical Engineering from Stony Brook University. I have several years of experience tutoring SAT students, but thanks to my mixed background I have proficiency in a wide range of subjects including mathematics, biological sciences, engineering, and physical sciences.

I am passionate about teaching, and have taught healthcare sciences to underprivileged high school students in my spare time. My own experience as a student has taught me that learning new subject material can be intimidating, so my teaching philosophy involves a focus on breaking down complex problems into simpler, less daunting components. As a teacher I am most fulfilled when, through systematic instruction and problem-solving, I am able to promote the type of academic confidence that allows students to achieve their full potential.

I was a collegiate rugby player and understand the struggles of the student-athlete. However, I firmly believe that many of the qualities that earn success in athletics can also translate to the classroom. I strive to exemplify this balance and motivate students to pursue success in all areas of their life.
Education & Certification
Undergraduate Degree: Stony Brook University - Bachelor of Engineering, Biomedical Engineering
Graduate Degree: Drexel University - Doctor of Medicine, Biomedical Sciences
Test Scores
SAT Composite (1600 scale): 1560
SAT Math: 800
SAT Verbal: 780
SAT Writing: 730