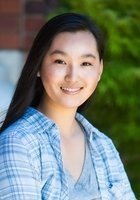 Cindy
Certified Tutor
Hi, I'm Cindy! I'm a freshman at Harvard University and graduated from San Mateo High School this past year. I love to teach and have years tutoring students of all ages in a variety of subjects. Feel free to send me a message if you have any questions or would like to schedule a tutoring session!
Education & Certification
Undergraduate Degree: Harvard University - Current Undergrad Student, English
Test Scores
ACT Composite: 36
ACT English: 36
ACT Math: 35
ACT Reading: 36
ACT Science: 36
SAT Composite (1600 scale): 1580
SAT Math: 800
SAT Verbal: 780
Hobbies
I love traveling, cooking, reading and singing in my free time.
Tutoring Subjects
AP Computer Science Principles
Basic Computer Literacy
College Application Essays
Conversational French
Conversational Mandarin
Elementary School Math
Elementary School Reading
Elementary School Science
Elementary School Writing
High School Biology
High School English
High School Physics
High School Writing
Middle School Reading
Middle School Reading Comprehension
Middle School Science
Middle School Writing
Other
SAT Subject Test in Biology E/M
SAT Subject Test in Chinese with Listening
SAT Subject Test in Mathematics Level 2
SAT Subject Test in United States History
SAT Subject Tests Prep
Technology and Coding