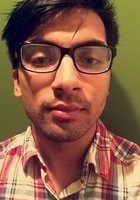 Bikal
Certified Tutor
I always hated writing essays. In the second week of high school, my English teacher assigned us an essay prompt that required us to prove that Odysseus is the ideal hero in Greek literature. I got a C on it, so I went to dispute the grade after school. The grade stood as is. However, she sat me down to talk to me for almost an hour about why I got the grade. We went through the whole essay first. I read aloud and figured out some syntax errors by myself. She gave me tips on grammar, but most importantly, she taught me how to think. She taught me how to write an outline before writing, how to use repetition and transition words properly and how to make a rational argument in order to prove a point. It was a grueling process then, but Im glad I paid attention because the skills she taught me in that one session were invaluable.

I got the chance to use these skills two years later when my English class founded McLean Writing Center. Students got a chance to show their writing pieces to tutors, which helped them not only enhance their skills, but also get a new perspective on how to approach a certain topic. As a tutor, I learned a lot. Seeing the same prompt being answered in dynamic ways helped me learn more about writing, and about the writers. The environment was diverse. After a year of experience there, I knew I wanted to continue tutoring in college.

In my third year of college, I became a TA for a freshmen level chemistry course. We had recitation every Thursday evening, when students went over what they were taught that week in class. I would be the one to help them get more exercise with problem sets so they could retain important concepts. This helped me greatly relearn basic chemistry that in turn helped me excel in the biochemistry courses I was taking. This class was proof to me that the best way to learn was to teach. Sometimes, students would ask tough questions that would require me to ask my colleagues or conduct research, which further helped me strengthen my knowledge on the subject. I got in the habit of trying to explain something to myself in simple words in order to find out if I have understood the concepts well. This habit has continued till today, and has helped me learn new subjects more easily. Im currently in the process of teaching myself how to code through online resources, and I can easily say that my tutoring experience has helped me greatly so far. Therefore, I want to continue this process of gaining knowledge by teaching others what I know, and more importantly, how I know it. I look forward to more knowledge!


Test Scores
ACT Composite: 30
Hobbies
Writing poems. Reading Science Fiction. Soccer. Basketball.