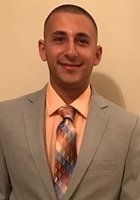 Joseph
Certified Tutor
I am currently a junior at Penn State and I am in a 7-year Accelerated Medical Program. I have always been a science and math geek, so it makes sense that I have been tutoring Biology, Chemistry, and several levels of Mathematics (including standardized tests) since I was a junior in high school. I love tutoring these subjects because I know that new concepts in such areas can be intimidating and difficult to grasp, and finding new ways for my students to understand them is like solving a puzzle to me. Putting myself in my students shoes has always been my motto and, I believe, is the best way to help them academically. Outside of academics I love to play sports such as soccer and basketball while also playing video games during extra time.
Test Scores
SAT Composite (1600 scale): 1510
SAT Math: 800
SAT Writing: 800
SAT Mathematics Level 2: 800
SAT Subject Test in Chemistry: 710
Hobbies
Playing soccer, basketball, and video games along with trying new foods and adventuring in nature.