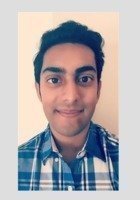 Saad
Certified Tutor
Hey everyone! My name is Saad and I am a student at Rutgers University in the Honors Program studying Genetics. My career plan is to hopefully become a doctor and maybe specialize in either surgery or emergency medicine.

I attended the Wardlaw Hartridge School and I was class valedictorian of my high school. I have taken many AP level classes at my school, including Calculus, Chemistry, Statistics and Physics and Latin. I have also take the SAT and ACT and scored high and also have taken the SAT Math Level 2 exam and scored a perfect 800!

I am able to tutor a wide variety of classes, including: almost ALL levels of mathematics, biology, chemistry, physics, statistics, English, psychology, sociology, and even SAT and ACT prep.

Along with my wide range of courses I can help you with, I can also provide excellent guidance and career planning for those who are interested in becoming doctors. I can help you with college decisions, course selection, types of extracurriculars to get involved in, a 4 year plan to help get into med school, and much more.

I am not only offering you a plethora of tutoring options to choose from, but I am also offering you the tons of experience I have. Since childhood, I have been tutoring my younger siblings in many subjects. Later on, I tutored for all 4 years of my high school. I also worked part time teaching at Kumon, where I helped many students with math. Currently, I am also a tutor for the Honors Program at Rutgers University.

My love of teaching students comes from my desire to help those who are either struggling in subjects they don't understand or those who want to advance their studies and get ahead of their peers. I have been blessed to learn the best teaching methods from my own teachers and professors who have made a huge impact on who I am today.
Test Scores
SAT Math: 750
SAT Writing: 720