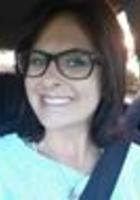 Christina
Certified Tutor
Mission Statement: To help every student succeed in their ability to master difficult subject areas. Everyone needs tutoring somewhere along the learning curve. New techniques, patience, and repetition are how I assist an array of learners. I have successfully worked with the General Education, and Special Education Populations in all age groups. I have proudly worked in Denton ISD, and am now a part of Northwest ISD.
Education & Certification
Undergraduate Degree: Texas Woman's University - Bachelors, General Education (Business and Women's Studies)
Hobbies
I love cooking, working out, teaching, spending time with my family. I have two dogs, and I love animals!
Tutoring Subjects
Business
Business Ethics
Elementary School Math
Elementary School Science
Elementary School Writing
Life Sciences
Middle School Reading
Middle School Reading Comprehension
Other
What is your teaching philosophy?
That every student has the ability to learn. Teachers and tutors are in place for additional classroom support. Sometimes teachers lack the ability to give continuous one on one assistance. Tutors are beneficial because they can focus on a student and work on their weakness individually as needed.
What might you do in a typical first session with a student?
My first session with a student is geared toward: building a working relationship. Learning as much as I can about them. Understanding what is difficult for them, and why. Finally, how I can best be of assistance.
How can you help a student become an independent learner?
Once I know a student, I teach them tools to help align them to problem solve independently. I want to see them slow down work until it is mastered. With many subjects, there are patterns in the learning process that lead to the next step-or the next level. Good study, and good work habits will propel my students into independence.
How would you help a student stay motivated?
Motivation is always important. I see many students forget why they need to learn certain assignments. When this happens, I listen to them...then, I try to find a real-life example of when that assignment is necessary. In other instances, I have observed interests and hobbies of theirs, and I reward them with breaks, snacks, and anything that might give them extra incentive.
If a student has difficulty learning a skill or concept, what would you do?
When this happens, I find another approach. I will continue to differentiate instruction until I find what clicks for the student. I never let them feel like there is no hope. If a break is needed, we take a break, and then dive back into a new strategy.
How do you help students who are struggling with reading comprehension?
Start with the basics...make sure they understand phonetics, phonemes, and context clues. Teaching reading involves a combination of modeling, guidance, and repetition.
What strategies have you found to be most successful when you start to work with a student?
Number one, my students know that I really care. Because they know this, they work harder for me. Again, relationship building is a proven strategy. Also, I have to remind myself to pace the instruction, so if I lose them, I can easily refocus their attention. Organization is a big one. My most organized students tend to be the ones with less missing assignments. I do work with them on staying organized and prioritizing assignments in accordance with due dates.
How would you help a student get excited/engaged with a subject that they are struggling in?
A lot of their struggle can be attributed to their attitude about their weakness. I help them think positively about how we can turn these moments into strengths. Often, once they master one or two difficult assignments, they realize that they can indeed master challenges.
What techniques would you use to be sure that a student understands the material?
Chapter reviews are fantastic. I always refer to those when available. If not, I may question them to see what they know.
How do you build a student's confidence in a subject?
Lots of positive reinforcement! Encourage their efforts, encourage when they get an answer correct, and don't dwell on mistakes...keep the lesson moving, and keep them smiling.
How do you evaluate a student's needs?
Through a combination of teacher observations and available data (test scores, etc.). Anything a parent has addressed a concern about. Anything the student has addressed a concern about.
How do you adapt your tutoring to the student's needs?
I stay open-minded so that I can gauge where they are at and what they need. If I don't see progress when I expect it, I'll modify anything, from how I form my questions to how I present the material.
What types of materials do you typically use during a tutoring session?
Visual cues are important. Anything with a pictorial breakdown of the lesson is great. Examples I use can be in the form of a PowerPoint, the Internet/technology to research relevant subject matter, or a dry erase board to show step by step processes.