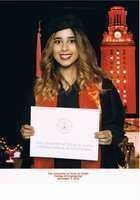 Lourdes
Certified Tutor
I'm a recent graduate from the University of Texas at Austin. I graduated with a degree in aerospace engineering. It was a tough four and half years of hard work, but I truly learned a lot about myself. Above anything else, I learned to believe in myself. It was through this experience that I realized I wanted to help young minds find power and self-confidence within themselves. Although I am now considered an adult I still fully enjoy watching cartoons and riding my bike. Some of my top favorite cartoons include Steven Universe, Gravity Falls, and of course Adventure Time. I also absolutely enjoy the wonders of traveling. Last summer I studied abroad in France without knowing any French! It was an unforgettable and incredibly fun experience. I'd be more than happy to share my travel stories with you!
Hobbies
I love to ride my bike around Bayou Bend. I also have a deep love for travel.
Tutoring Subjects
Elementary School Math
High School Physics
What is your teaching philosophy?
I believe in empowering students and teaching them to uncover their true potential. Teaching is all about knowing your student in every way. From their social behavior to their interests, and of course, their learning style. I aim to go beyond improving my student's academic performance. My main objective is to boost my student's self-confidence and to teach them to believe in themselves.
What might you do in a typical first session with a student?
I would try to get to know my student. I'd find out what their interests are and get a feel for their social environment. I would then try to find some common ground and relate to the student so as to build trust with them. Finally, I would dive into the material itself. I'd try and figure out what specific area the student struggles with by doing some example problems.