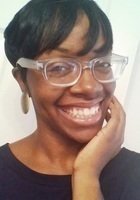 Taya
Certified Tutor
Upon graduating from college, I dedicated my time to promoting student success in schools and non-profit organizations.

For two years, I have served as a volunteer tutor at the Global Village Project and the Andrew P. Stewart Center. At both locations, I worked with students individually and in groups, in the various areas of math. In addition, I helped to enhance leadership qualities with students as a Youth Camp Co-Director. Currently, I tutor in a local public university in addition to freelance tutoring.

I am certified in the state of Georgia to teach middle-school (grades 6-8).

My passion for being a tutor comes from having the chance to help clients recognize their true potential. I believe in producing a student-centered environment in which student's can turn their weaknesses into newfound strengths. For me, it's all about starting where the student is and from there building upon their current knowledge base.
Test Scores
SAT Composite (1600 scale): 1020
Hobbies
Reading, practicing yoga, and creating interesting DIYs
Tutoring Subjects
ACCUPLACER Arithmetic
CLEP Prep
CLEP College Algebra
CLEP College Mathematics
Elementary School Math
GED Math
ISEE-Middle Level Mathematics Achievement
ISEE-Upper Level Mathematics Achievement