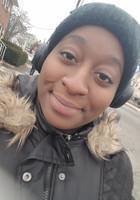 Margery
Certified Tutor
Greetings to everyone :) I am Margery, 27, married with two children: a hyper 10-year-old son and a 2-year old baby girl. I have an Associate's degree in Education and I am currently pursuing my Bachelor's in Mathematics Education. I love to help people, and I am here to help you! Please do not hesitate to contact me :)
Hobbies
I like to sing (sometimes :D), I like dancing, listening to music, watching television (I enjoy shows and movies), playing with animals, getting into doing hair and makeup, and simply spending time with my family.
Tutoring Subjects
Elementary School
Elementary School English
Elementary School Math
Elementary School Reading
Elementary School Writing
Middle School English
Middle School Reading
Middle School Writing
Other
What is your teaching philosophy?
Paper and some kind of writing utensil. I am a visual learner, and I try to "show" through my teachings. Now if I am using stories, I may use figurines or objects to provide an illustration for my story.