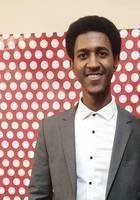 Emmanuel
Certified Tutor
Failure is something that constitutes as a crossroad. One that separates the successful from the average. Shortcomings are not things to be ashamed of, but rather to be learned from.

I believe that, while grades are certainly important to the success of the student, they are only a secondary focus of importance. There are dozens of ways to get good grades without ever increasing in knowledge. The primary focus of education should be to allow students to gain an understanding of themselves: strengths, weaknesses, abilities, affinities, etc.

My goal as a tutor is to use my knowledge and successes as well as my personal and academic shortcomings to help students learn and grow in areas they don't feel confident in.

My focus subjects are Writing, English, and their surrounding areas. I hope to be a help to any clients who would like my assistance. Thank you.
Test Scores
ACT Composite: 27
ACT English: 31
ACT Math: 24
ACT Reading: 26
ACT Science: 30
Hobbies
Dance, creative writing (poetry, minimal story writing), strategy games, videogames, martial arts/kung fu, exercise and fitness, comics, political discussion
Tutoring Subjects
College English
High School English
High School Writing
Middle School Reading
Middle School Reading Comprehension
Middle School Writing
What is your teaching philosophy?
That each student should be encouraged to learn and perform in a way and in an environment that is a mixture of comfortable and challenging. Learning should be a personal experience; thus, teaching and tutoring should be a service that caters to the student, not to the comfort of the "caterer."
What might you do in a typical first session with a student?
Introduce myself and gain knowledge about the student: things they like, their hobbies, preferred subjects, and their academic tendencies, habits, work ethic, etc. Establish myself as an ally who is patient and willing to go as far as the student and beyond.
How can you help a student become an independent learner?
The most important thing is for the student to understand how they best learn themselves, so I discover with the student in what way they can learn and/or be taught most effectively.
How would you help a student stay motivated?
Make personal relationships with the students. Learn what they like and what they're interested in outside of academics. If I, as a friend, wish for the best and encourage them to continue on, it will be more effective than as me being "just someone trying to make money."
If a student has difficulty learning a skill or concept, what would you do?
The best way to teach a new skill that doesn't click well with a student is to relate it to a skill they already have and use it as a bridge between the two. If the student can see this skill from a perspective that is already familiar, the challenges can be tackled with the comfort of similarity, especially considering the guiding hand of the tutor alongside them.
How do you help students who are struggling with reading comprehension?
Give the student a strategy. Reading comprehension is something that is difficult due to the lack of ability or interest to remember and digest lots of information at once. Usually, this attempt to remember is aimless, but if the student has something like a mnemonic device or a strategy that teaches the student to focus only on key points, or one that brings important events in a story to a few key themes/motifs, a student doesn't have to remember every detail but can still remember the actual substance of whatever they were reading, much like teaching someone to identify a thesis and assertions in a paper.
What strategies have you found to be most successful when you start to work with a student?
Speak very informally. When things are explained, most people can understand better in terms that they would use when talking to a friend. Though being focused on the task at hand is important, take time to have casual conversation with the student to help relieve stress/tension; crack a few jokes, tell/listen to a few stories, and just be friendly overall. This can really help to "refresh" the student and keep them from feeling overwhelmed by a workload.
How would you help a student get excited/engaged with a subject that they are struggling in?
A student is always going to be excited for every subject, and some students will dread certain subjects for as long as they're in school. This is okay, but in order to get a student engaged and willing to tackle the work in front of them, it's important to help the student understand that: 1) There is merit to success - relating future possibilities to a student's interests or dreams is a good and simple way of doing this. 2) With enough work, it can be done - in some cases, a tutor or teacher will have to start all the way from the bottom and work their way up. Give the student the easiest and more simple of questions/examples and steadily increase the difficulty over time to build confidence. Confidence often times correlates with success.
What techniques would you use to be sure that a student understands the material?
Give impromptus. A student can understand material well when they can perform under minimal prep time. Obviously, some prep may be necessary depending on the student, but if an understanding is actually present, said prep time shouldn't have to be extensive.
How do you build a student's confidence in a subject?
I find a level of work the student can still be challenged in, yet finds success, and we work there. As the student continues to overcome challenges, confidence will be built and continue to move up at a steady pace. I give a guiding hand when necessary, but I allow the student to struggle a bit until they begin to see more success and move toward the more difficult material.
How do you evaluate a student's needs?
You cannot effectively evaluate a student's needs until you know the student well enough to know how they struggle. Knowing what they struggle in is necessary, obviously, but knowing in what way takes investigation. So one must know the student well enough on a personal level. A student may not necessarily struggle with the academic aspect of their work so much as they do with keeping focus or remaining confident. At-home struggles may also be the detriment rather than actual in-school difficulty.
How do you adapt your tutoring to the student's needs?
Once you know what the student needs, do what can be done to provide it. A student may sometimes need encouragement outside of their school work. So playing a little game, or having a good conversation, can have an impact as well. Sessions with students should have structure, but the overall setup should be different with each student based on learning styles and the student's academic habits and tendencies. If this is established from the beginning, then adapting to a student's needs will be more inherent.
What types of materials do you typically use during a tutoring session?
This varies depending on the student. If nothing extra is needed, then the most common thing is whatever their schoolwork is based on, i.e. the prompt or assignment, etc. Sometimes, my own old work and assignments are brought if a student needs another point of reference or encouragement, etc.